Cloud Storage can be a very convenient way you can store your data (photos, videos, music etc.) remotely using platforms like iCloud and Google Drive. You can then access your data stored in the cloud via the internet using any of your devices (computers, mobile devices etc.).
As the demand for more and higher quality media increases, so too does the requirement for more space to store such media. Since the hardware (e.g. a hard drive in an iPhone) cannot keep up with this demand, people turn to Cloud Storage to store their data – this keeps space free on their mobile device.
Google Drive is Google's answer to the people's calls for cloud storage.
Get the most out of your Drive – get rid of duplicates to save yourself time and money.
So, you've set up your Google Drive and have saved some files there. How do you download those files to your computer or to your phone?
Quick Jump to:
Method 1: Download files from Google Drive to PC
First, ask yourself whether you want to transfer certain files from Google Drive to your computer, or whether you would prefer to always keep your computer and Google Drive in sync.
The first option will do for those who only want certain files from their Google Drive, or who only rarely need Google Drive files on their computer.
For those who always want access to their Google Drive files from their computer, I would recommend using Google's "Backup & Sync" app. Any files added, removed or edited on Google Drive will be reflected automatically on your computer, so you can keep all your up to date files in both locations at once.
Let's see how to download from Google Drive to PC:
Open the Google Drive website (https://drive.google.com/).
If you're not logged into your Google account already, click "Go to Google Drive" and enter your details.
Select all the files that you wish to download. You can hold the "ctrl" key on your keyboard while clicking multiple files to select many files at once. Or after clicking a file, hit "ctrl + A" on your keyboard to select all files in your Drive. If you are using a Mac, use "cmd" instead of "ctrl".
Click the menu icon in the top-right corner of the window to access More Actions.
Click "Download".
Your files will be downloaded from Google Drive to your computer as a zipped file. To access these files on your computer, you'll first need to extract them (you'll find an "Extract" option when you open the folder in File Explorer).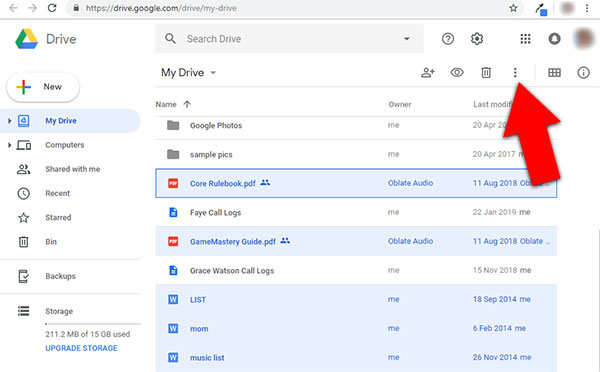 Now let's see how to sync files from Google Drive to PC. The Backup & Sync setup wizard will take you through this process, but I've noted the steps below for you as well:
Download Google's "Backup & Sync" from https://www.google.com/drive/download/
Click "Agree and Download" to begin the download.
Double-click the downloaded file to begin the installation.
When the install is complete, click "Get Started".
Sign in to your Google Account.
If you wish to also sync folders from your computer with Google Drive, check the relevant checkboxes (when you add, edit or remove files in these folders, they will also be reflected in Google Drive).
Click "Next" to continue with the setup.
Click "Got It" to proceed.
Check "Sync My Drive to this computer".
Choose to either sync all folders from Google Drive with your computer, or to only sync certain folders.
Click "Start" to download files from Google Drive to your computer.